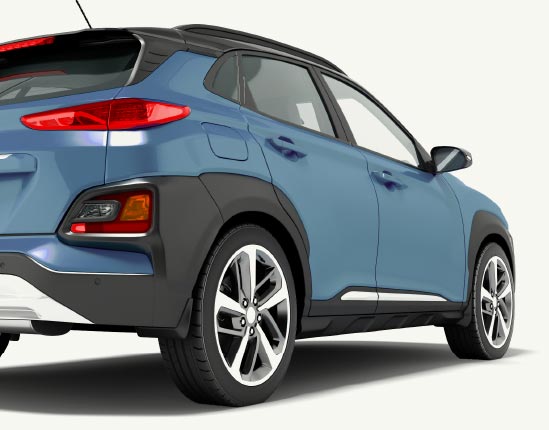 List of content articles on our auto buying marketplace
The following recent content articles feature relevant information about auto finance and the lifecycle of buying a new or used vehicle. If you're looking for an auto loan don't forget to apply today. We make it easy for you to get the loan that's right for you. Visit our
content articles
section for additional tips and helpful information.
How To Protect Your Transportation Business
By Jeremy Bowler
Many companies rely on transportation for their operations. Your business may rely on delivery vans to run non-stop or trailers to distribute supplies and may suffer if your transportation hits a snag, even temporarily.
Vehicle Trim Levels: Base Model Vs. Fully Loaded
By Moses Mwangi
Base model or fully loaded trim level vehicle, which is best? That is one of the most important questions for one to ask.
8 Things To Consider When Buying An SUV Or Pickup Truck
By Jeremy Bowler
The decision between buying a pickup truck or an SUV can be a difficult one. Both vehicles have advantages, depending on your preferences and lifestyle. Statistics show pickup truck sales are rising in the US for various reasons.
How To Renew Auto Insurance And Get The Best Rates?
By Keith Dean
Here are some interesting ways you can save money while renewing your auto insurance policy. Plus a guide on how to renew auto insurance and things to avoid.
Distracted Driving-Why It's So Dangerous and How to Avoid It
By Jeremy Bowler
Distracted driving is a significant problem on the roads and is one of the leading causes of car accidents. In fact, research has shown that distracted driving is just as dangerous as driving under the influence of drugs or alcohol.
Franchised vs Independent Dealerships: What is the Difference?
By Moses Mwangi
The auto-selling industry attracts thousands of entrepreneurs each year. Currently, there are about 17,600 new car dealerships in the US alone. The dealerships have ensured that the car-buying procedures are straightforward.
How Much Down Payment Should You Make on a Car
By Moses Mwangi
Are you planning on buying a used or new car? If yes, one of the first questions that come to mind is how to finance the purchase. Generally, you can pay for the vehicle in cash or with a loan. If you are considering getting an auto loan, a down payment is a vital aspect to consider.
How to Start Saving for A Car
By Moses Mwangi
A car is an important means of transport when moving around, either to work, school, or shopping. It is also an important financial investment that requires you to make a proper budgeting plan.
Automobile Refinance Loans
By Dale Peterson
Many car owners will keep the same car loan in place on their vehicle until the loan is paid in full or until they trade in their vehicle. However, you may have heard you can lower your monthly car loan payment through auto loan refinancing efforts.
How to Fast-Track Your Way to Owning Your Dream Car
By Joe Moore
With your car, you drive to work, run errands, or go on a trip much more conveniently than if you commute using public vehicles.
EV or Gas? Which Will Take You the Furthest for the Least Money?
By Staci Bailey
Most drivers can expect to pay less to fuel their EV but the actual savings of driving an electric vehicle are specific to each individual. There are multiple variables which are affected by many factors such as where you live, the car you drive, your driving habits, and lifestyle.
11 Essential Factors To Consider Before Investing In Your Next Automobile
By Jeremy Bowler
Buying a car is an exciting and sometimes overwhelming process. It's hard to know what questions to ask, what features are essential, and which ones you can live without.
Fully-Electric, Plug-In Hybrid & Hybrid Technology, Explained
By Staci Bailey
Electric and hybrid vehicles have been gaining prominence. Most people are aware that these types of vehicles exist but there is much confusion as to the differences between them.
8 Benefits of Taking a Motorcycle Loan Over Cash Payment
By Moses Mwangi
Deciding on how to finance a motorcycle purchase can be very challenging. Generally, there are two main ways you can finance your dream bike: cash or a loan. If you have enough savings, you may probably want to buy cash.
Secured Vs. Unsecured Motorcycle Loan: Which is Best for You
By Moses Mwangi
If your dream is to own a motorcycle, one of the first decisions to make involves bike financing. Motorcycle financing may either be through cash or a loan. Getting a motorcycle loan is ideal if you don't have the necessary funds to cover the total cost of the purchase.
11 Factors to Consider Before Buying a New Motorcycle
By Moses Mwangi
Different motorcycles have different specifications and purposes. You need to understand these variations to purchase a motorcycle that suits your daily needs. The motorcycle you might require for daily transport is not the same as the one you might purchase for the transportation of goods. This article gives some essential factors to consider before buying a new motorcycle.
How to Make Your Car Look Newer for Longer
By Jeremy Bowler
Cars are a significant investment. Not only do they cost a lot of money, but they also require a lot of maintenance in order to keep them looking and running at their best.
11 Tips For Making Your Car Pet-Friendly
By Amelia Palmer
If you want to take your dog along for the ride, you need to know how to keep them safe in transit. Prepping your car to be pet friendly is the first step.
9 Things to Consider Before Buying Your First Motorcycle
By Greg Thibodeau
Buying your first motorcycle is exciting but there is more to know than meets the eye. You want to ensure that you will be happy with your ride and that you have all you need to hit the road.
Buying a New vs. Used Motorcycle: What's Better for You?
By Moses Mwangi
A new or used motorcycle, which is better? That is one of the most puzzling questions anyone wishing to buy a bike asks themselves. Buying a motorcycle or a collection of motorcycles can be a thrilling experience for any biker.
Can You Finance a Motorcycle with No Credit?
By Moses Mwangi
Buying a motorcycle is a dream for most two-wheeler lovers. However, the primary question often arises in how to finance the purchase, especially if you do not have credit. Like auto loans, motorcycle loans rely significantly on credit history and score.
How to Buy a Used Motorcycle from a Private Seller
By Moses Mwangi
Buying a used motorcycle from a private seller is an excellent option, especially if you have limited funds. In most cases, the private seller will sell you the motorcycle at a lower price than buying a new one.
Private Party Auto Sale Myths, Debunked
By Staci Bailey
Private party auto sales are the best place to find deals on used cars and yet many people choose to shop at the dealership instead. Stepping into the world of private party sales gives buyers more options.
Used Auto Finance
By Dale Peterson
Why Should You go for a used auto finance loan? Used autos have become less expensive while new cars have dramatically increased in price.
How to Get the Best Rate with Private Party Auto Loans
By Moses Mwangi
If you want to purchase a car, you must first be well prepared to finance the process. Private party auto loans help you achieve this dream where a lender lends you money to purchase a car from an individual owner but not a dealer.